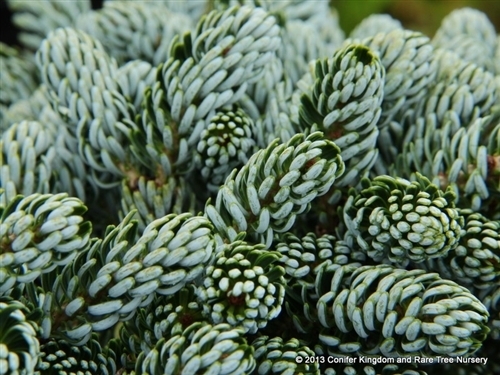 Dwarf conifers are some of the most exotic woody plants for any garden. The term dwarf is a loose term and covers woody plants including dwarf spruce and pine which could be up to 15′ or more tall. Some of the conifers have various variegations in foliage and a variety of colors of cones and leaves. They can add fantastic accents to a small yard garden or a large scale rock garden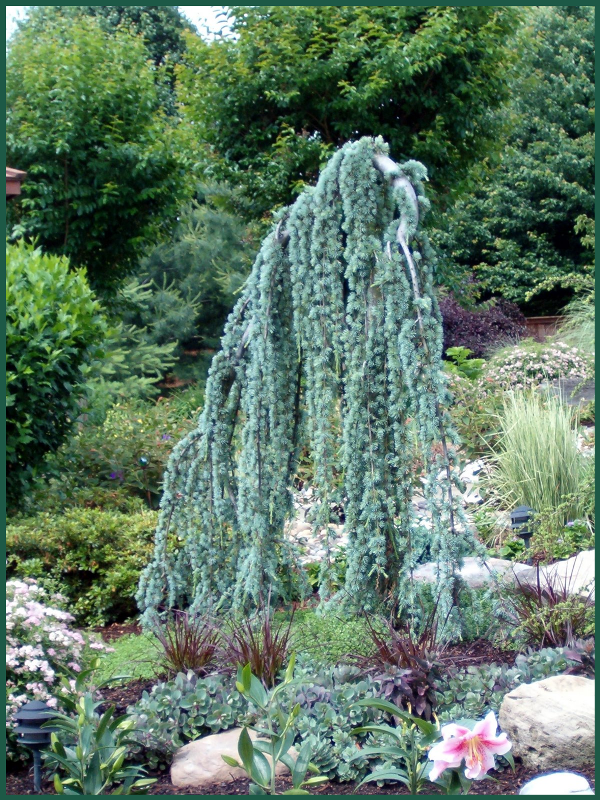 Weeping Blue Atlas Cedar
Cedrus atlantica 'Glauca Pendula'
Height: Spread:
A columnar, weeping form Atlas Cedar featuring pendulous branches clad with bluish-green needles in clusters and upright, barrel-shaped cones. Training determines the form of the tree which can range from narrow-upright (if supported) to cascading in a variety of directions (if unsupported).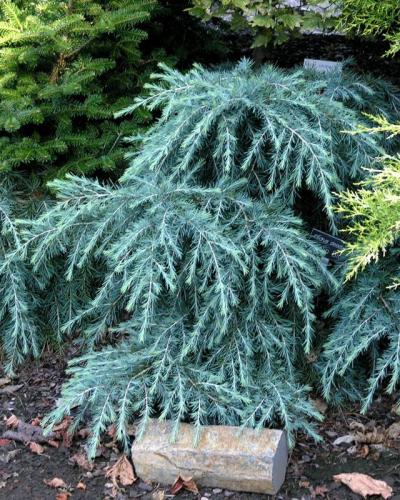 Deodar Cedar
Cedrus deodara 'Feelin Blue'
The lowest of the dwarf cedars, with a unique spreading form that rarely develops a leader. The intriguing form with blue-green foliage is a wonderful specimen for smaller spaces, rock gardens and containers. An ideal topiary that may be trained into upright or patio tree forms.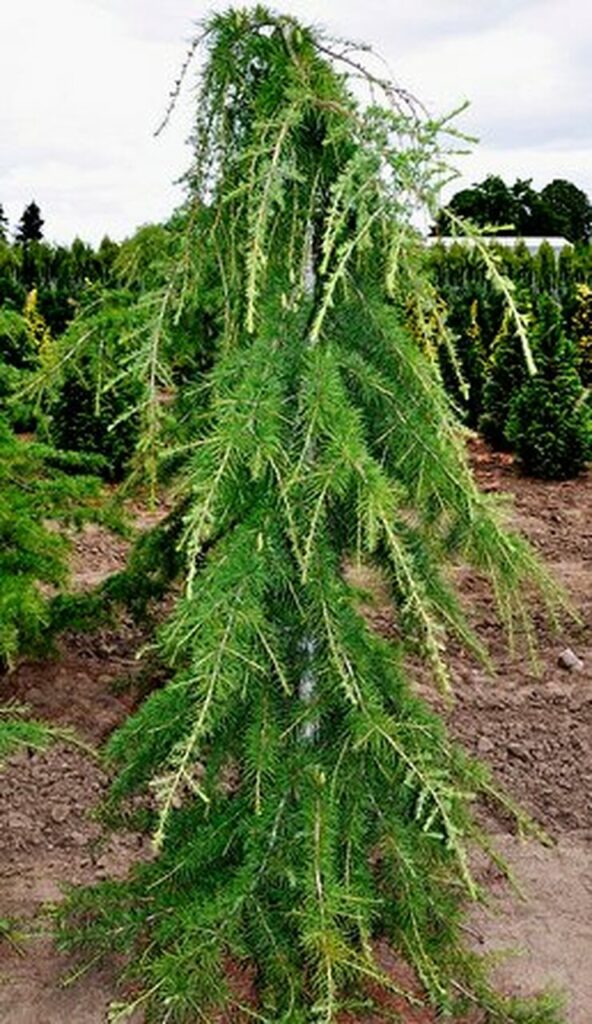 Cedar of Lebanon
Cedrus libani 'Beacon Hill'
Height: 12′ Spread: 12′ (@ 10 years)
Irregular-upright, with arched to weeping branches and strictly pendulous secondaries. Foliage consists of long, dark-green needles. Results may vary greatly — it's a very unpredictable grower; no two specimens will look alike.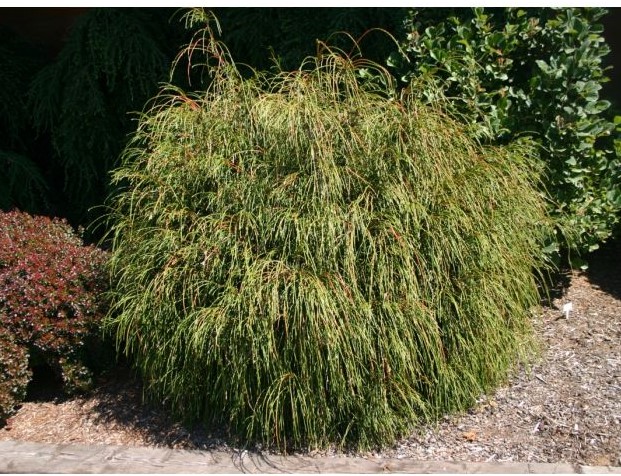 Whipcord Western Red Cedar
Thuja plicata 'Whipcord'
Height: 4-5′ Spread: 4-5′
A dense, multi-stemmed evergreen shrub with finely textured, green foliage and gracefully arching branches. Foliage turns bronze in winter. Excellent for use as a specimen plant or in group plantings for added appeal in the landscape.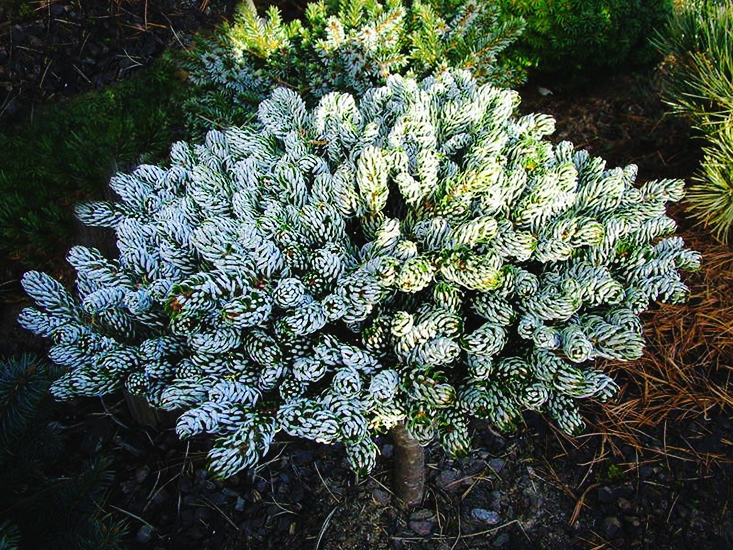 Kohout's Ice Breaker Korean Fir
Abies koreana 'Kohout's Ice Breaker'
Height: 2′ Spread: 2′ (@ 10 years)
A very fine, dwarf cultivar of Korean fir. has strongly-curled needles showing off the silvery undersides that make the species distinctive. Branches are short, stubby and radial. Young plants will be globose, later developing a leader, eventually becoming a small squat tree. Typical rate of growth in most areas is 1 to 3 inches per year. Prefers a shady spot in the garden.
Black Prince Austrian Pine
Pinus nigra 'Black Prince'
Height: Spread:
Dwarf selection of Austrian black pine with a flattened-globose structure when young, later broadening and becoming somewhat pyramidal with age. Needles are dark-green and shorter and thinner than what is considered typical for this species. Its white foliar buds are particularly attractive in winter.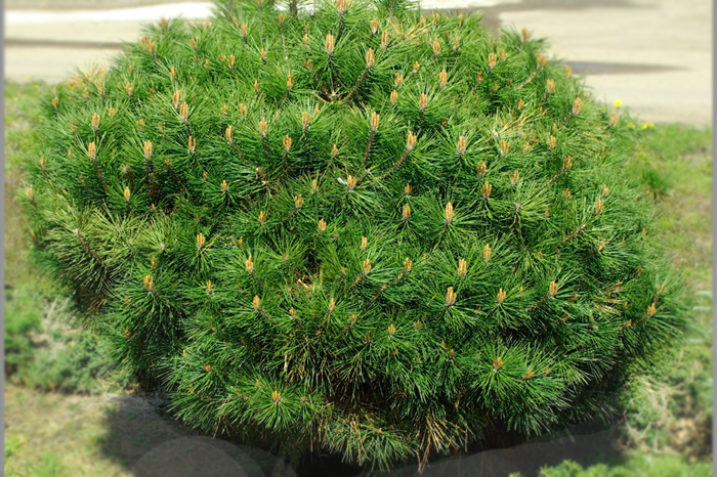 Brepo Dwarf Austrian Pine
Pinus densiflora x nigra 'Pierrick Bregeon
Height: 3′ Spread: 5′
Very unique, compact, mounding form, with a fast growth rate. Dark green needles are long when the plant is young and as it matures, the new needles are reduced to ½ the normal length. An outstanding dwarf.
Big Tuna Mugo Pine
Pinus mugo 'Big Tuna'
Height: 6-8′ Spread: 4-6′
Broad upright evergreen can be maintained as a broad shrub or trained into a small tree. Dark green foliage contrast with resinous buds in winter months. Coarse texture provides interest as an accent or in a group planting.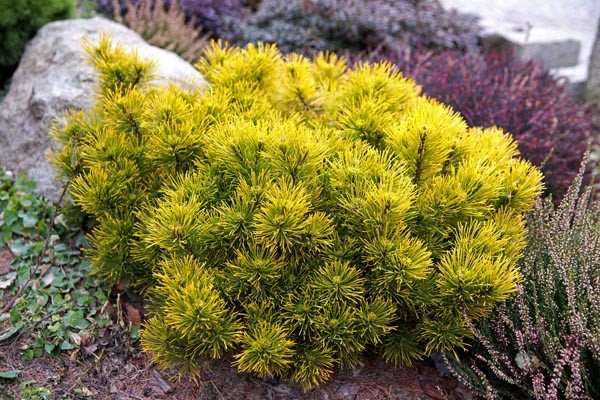 Carsten's Wintergold Mugo Pine
Pinus mugo 'Carsten's Wintergold'
Height: 1-2′ Spread: 2′
Dwarf form with compact, rounded shape and dense foliage. Evergreen needles are deep green in spring and summer, transforming to a rich gold in cold weather. Excellent as a statement in smaller gardens, and in groupings in larger landscapes.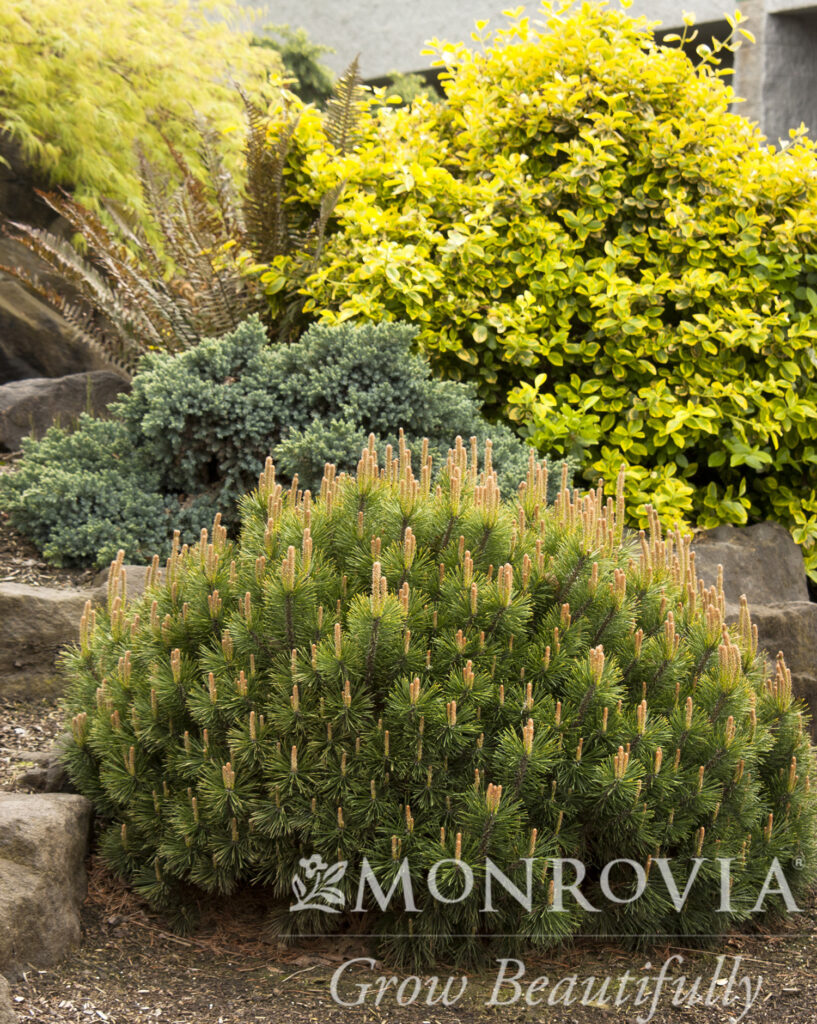 Dwarf Mugo Pine
Pinus mugo var. pumilio
Height: 3-5′ Spread: 6-10′
A small conifer forming a dense, spreading, cushion-shaped mound of finely textured, emerald green needles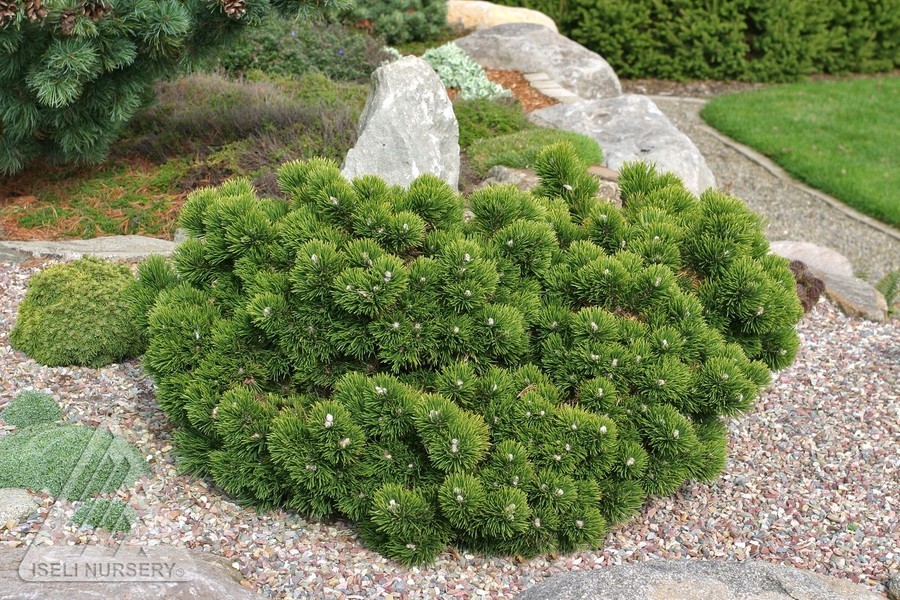 Jacobsen Mugo Pine
Pinus mugo 'Jacobsen'
Height: 4′ Spread: 6′
The dark green needles are set artfully against the strong trunk and branch structure giving this slow-growing pine the look of venerable age and beauty without the need for human manipulation.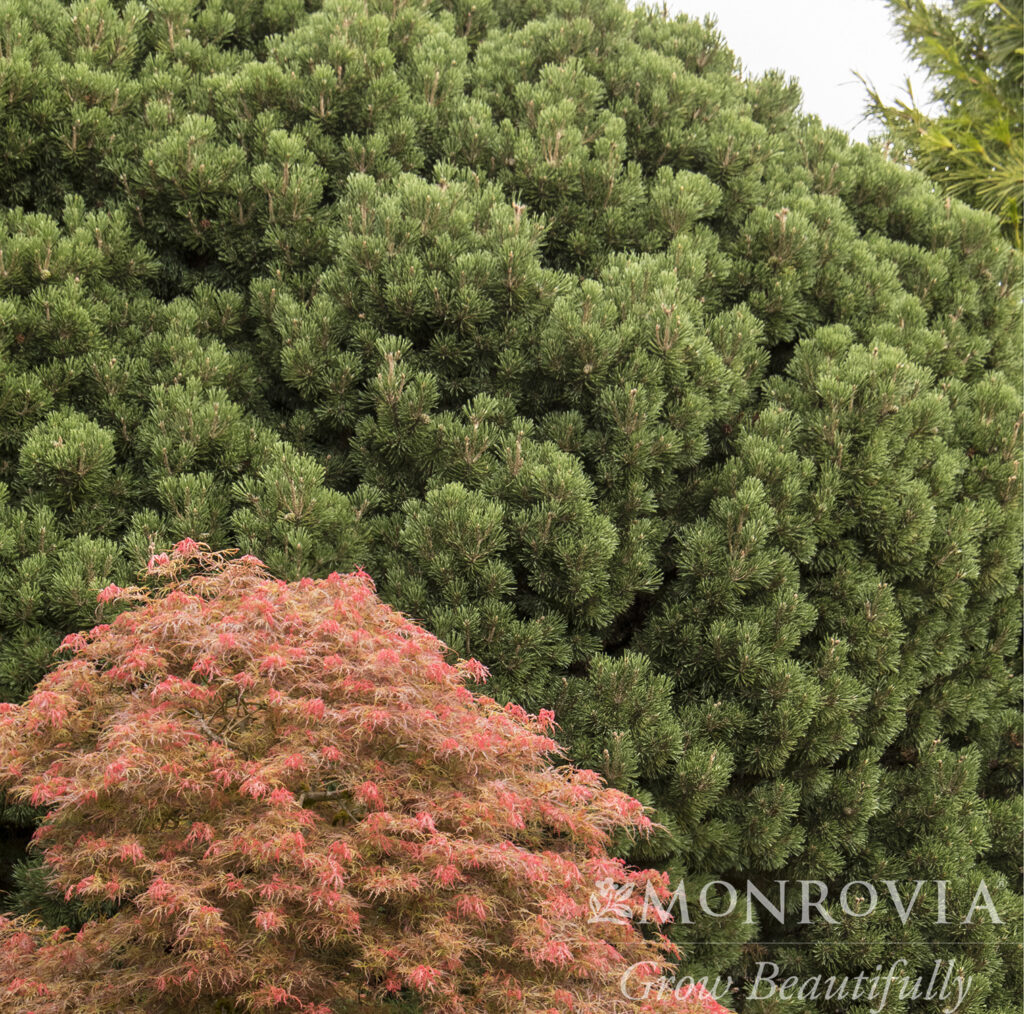 Mops Mugo Pine
Pinus mugo 'Mops'
Height: 3-5′ Spread: 3-5′
A dwarf cultivar with a dense rounded form that typically matures over time to 3′ tall with a similar spread, but is very slow-growing (2-4″ per year) and is commonly seen as a 1-2′ tall plant. Features medium to dark green needles (1-2″ long) in bundles of two. Needles may acquire a yellowish cast in winter.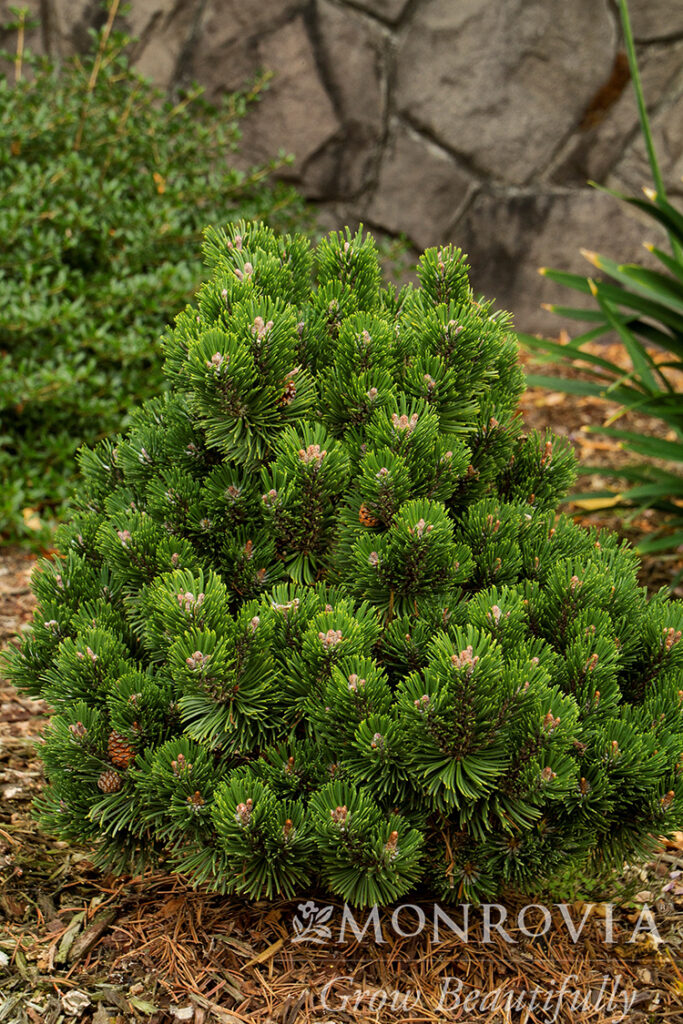 Sherwood Compact Mugo Pine
Pinus mugo 'Sherwood Compact'
Height: 2′ Spread: 2′
One of the finest of the TRUdwarf® Mugos, 'Sherwood Compact' displays short, stiff branches that are heavily clothed with slightly twisted needles. The compact, dense mound produces rich green foliage with golden tips in winter and white fascicles that give plants a radiant look that is full of character.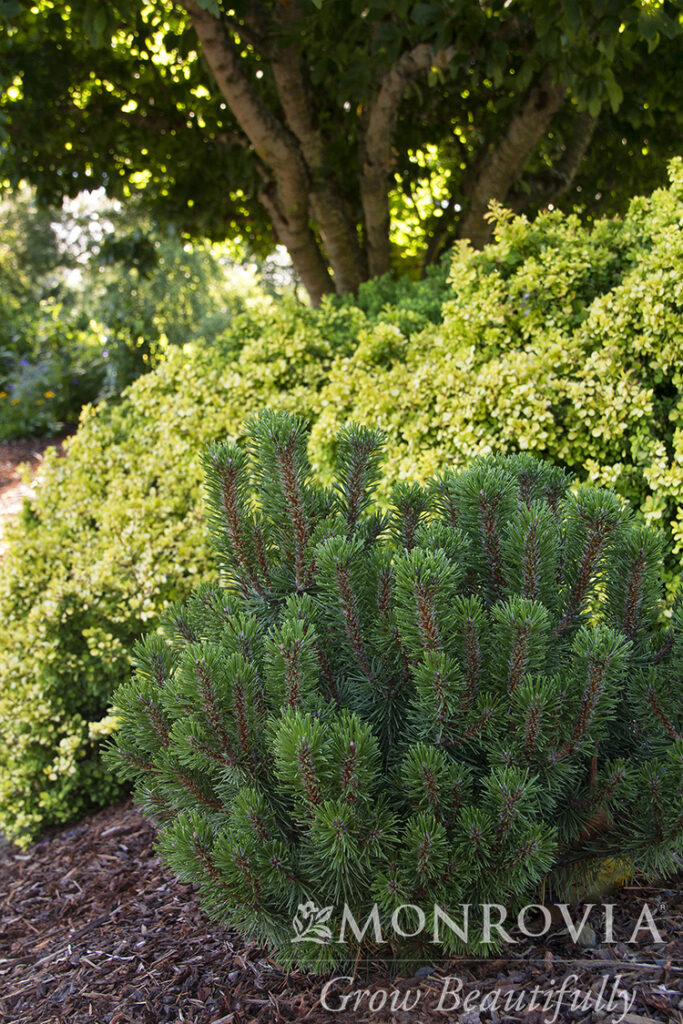 Slowmound Mugo Pine
Pinus mugo 'Slowmound'
Height: 1-2′, 4′ Spread: 1-2′, 5′
'Slowmound' is an Iseli TRUdwarf® introduction with so many superior traits that it is designated a Jean Iseli Signature plant, a distinction reserved for plants that exhibit "marked improvement" over others on the market. The dense, dark green mound is one of the best, with highly reliable color, texture, growth rate and habit. Beautiful year-round, Slowmound Mugo Pine produces many showy buds and matures to a wide, even shape that is naturally compact. At only 1-2′ in 10 years, it works well in even the most confined areas.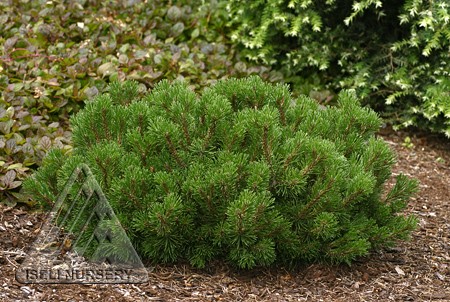 Valley Cushion Mugo Pine
Pinus mugo 'Valley Cushion'
Height: 1′ Spread: 4′
'Valley Cushion' offers a spreading habit to the mix of TRUdwarf® mugo choices. The very compact, dense pine stays low and flat, much wider than tall. Reddish, new buds complement the short, medium green needles, and plants grow very slowly, so they require little or no pruning. This cultivar is extremely hardy and an excellent choice for cold parts of the country.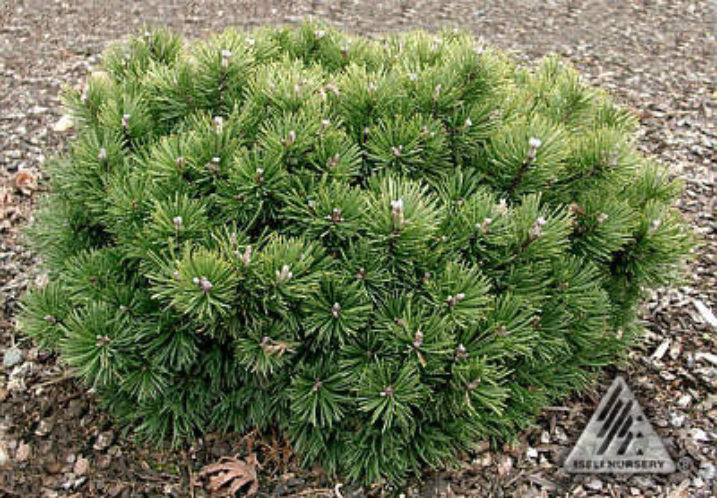 White Bud Mugo Pine
Pinus mugo 'White Bud'
Height: 2′ Spread:4′
In winter, 'White Bud' shows off a subtle seasonal trait. Cold weather brings a white resinous coating to each terminal bud, producing a dramatic frosty effect against the plant's dark green winter foliage. During the rest of the year, the reliable TRUdwarf® plant requires little care and maintains its small stature without candle pruning. Highly desirable for rock garden, entry or border.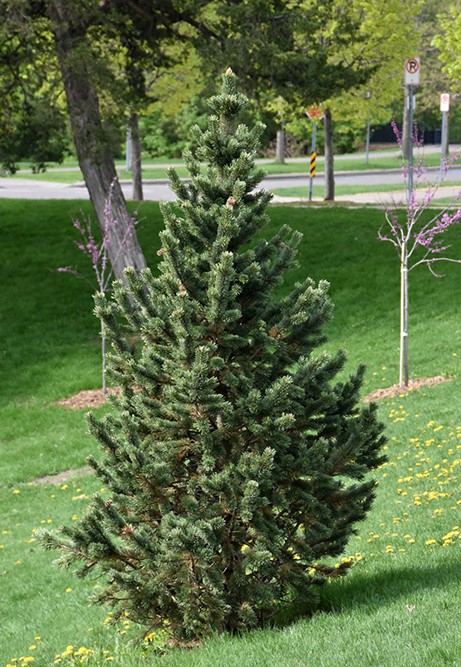 Formal Form Bristlecone Pine
Pinus longaeva 'Formal Form'
Narrow, uniform shape with clusters of closely held, 1½" long, green needles in bundles of five that radiate around the ascending branches, giving each the look of a bottle brush. Formal and long-lived, this slow-growing, bluish tree maintains its form with little or no pruning.
Sherwood Compact Bristlecone Pine
Pinus aristata 'Sherwood Compact'
Height: 3′ Spread: 2′
Develops a perfectly conical shape and a dense, formal appearance. Tightly packed tufts of medium-long, green needles with white undersides radiate around the ascending branches of the long-lived conifer.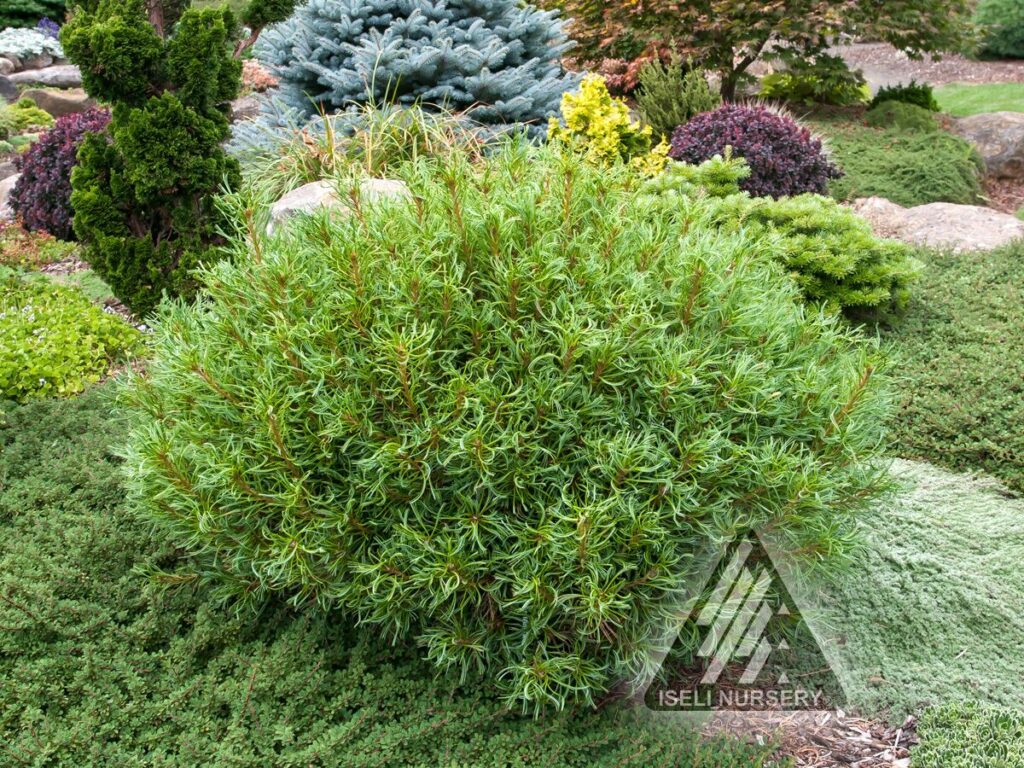 Mini Twists Dwarf Eastern White Pine
Pinus strobus 'Mini Twists'
Height: 3-5′ Spread: 4′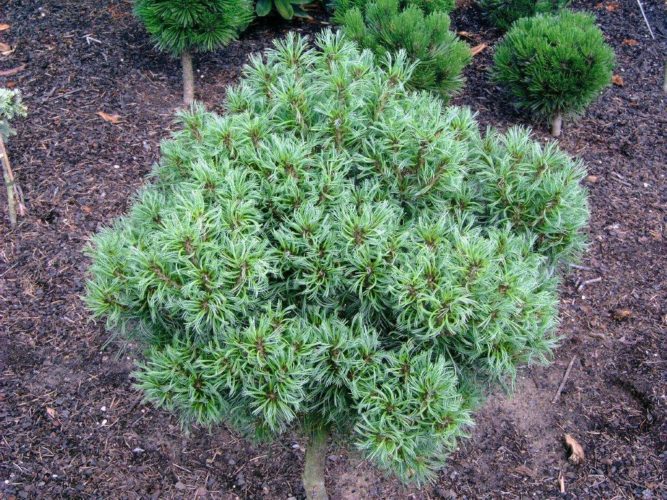 Twisted and curvy needles provide sense of movement and texture. Pruning candles annually will produce a more compact, dense small tree. An excellent accent, especially in a smaller landscape.
Vercurve Eastern White Pine
Pinus strobus 'Vercurve'
Height: 5′ Spread: 4′ (at 10 years growth)
A broadly pyramidal, dwarf selection of eastern white pine with interesting, twisted blue-green needles.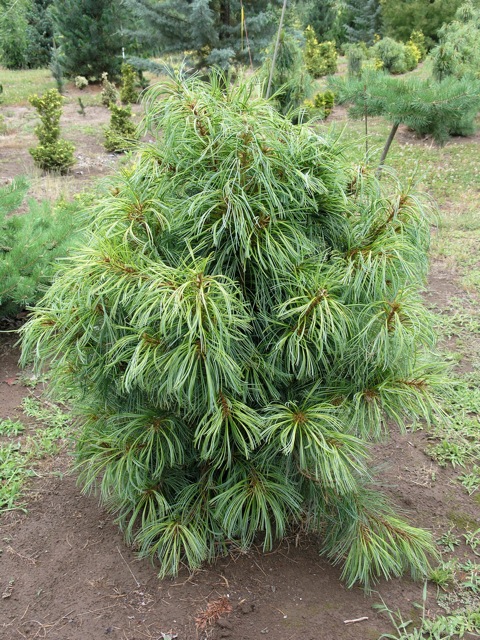 Jack Korbit Korean Pine
Pinus koraiensis 'Jack Korbit'
Height: 7′ Spread: 4′
Blue-green needles have yellow banding. Possibly the best variegated form of Korean pine. The long needles bend giving a tufted appearance.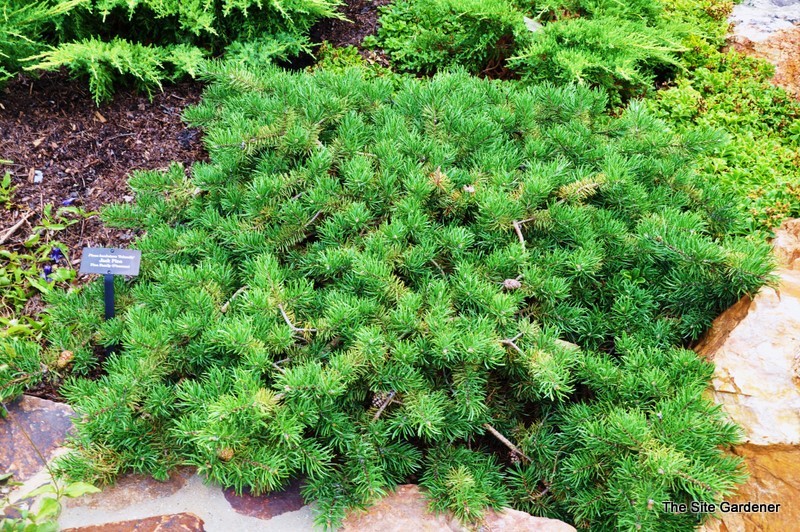 Schoodic Jack Pine
Pinus banksiana 'Schoodic'
Height: 2′ Spread: 4′
Low-growing evergreen dwarf. Branches hug the ground and can be trained to drape and sprawl down slopes. Slow growing. Short emerald green needles. Very hardy and adaptable to heat, cold, dry, sandy, or otherwise poor soils.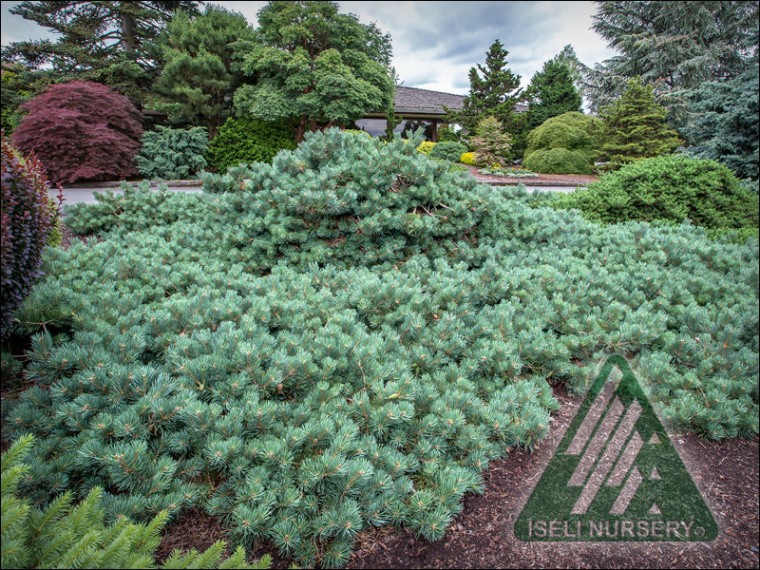 Albyn Prostrata Scotch Pine
Pinus sylvestris 'Albyn Prostrata'
A vigorous spreader and an excellent groundcover that spills over banks and rambles through garden beds. With maturity, layered branches mound in the center and taper down to the edges. A blue cast adds interest to the thick, green needles.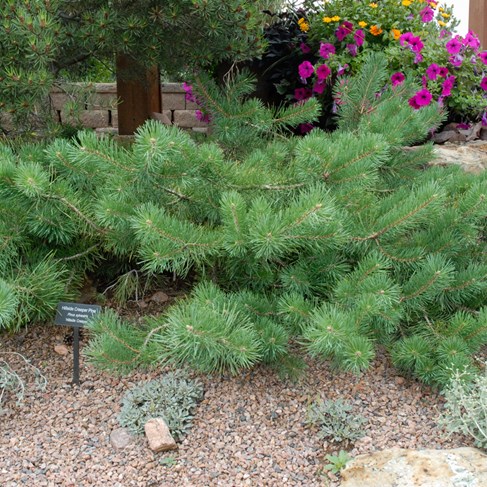 Hillside Creeper Scotch Pine
Pinus sylvestris 'Hillside Creeper'
Height: 2′ Spread: 5′
Prostrate, spreading cultivar with fast growth rate, especially when young. Twisted needles grow in bundles of two; light green in spring ad summer, yellowish green in winter. Excellent groundcover for banks and slopes, or tucked around walls and boulders.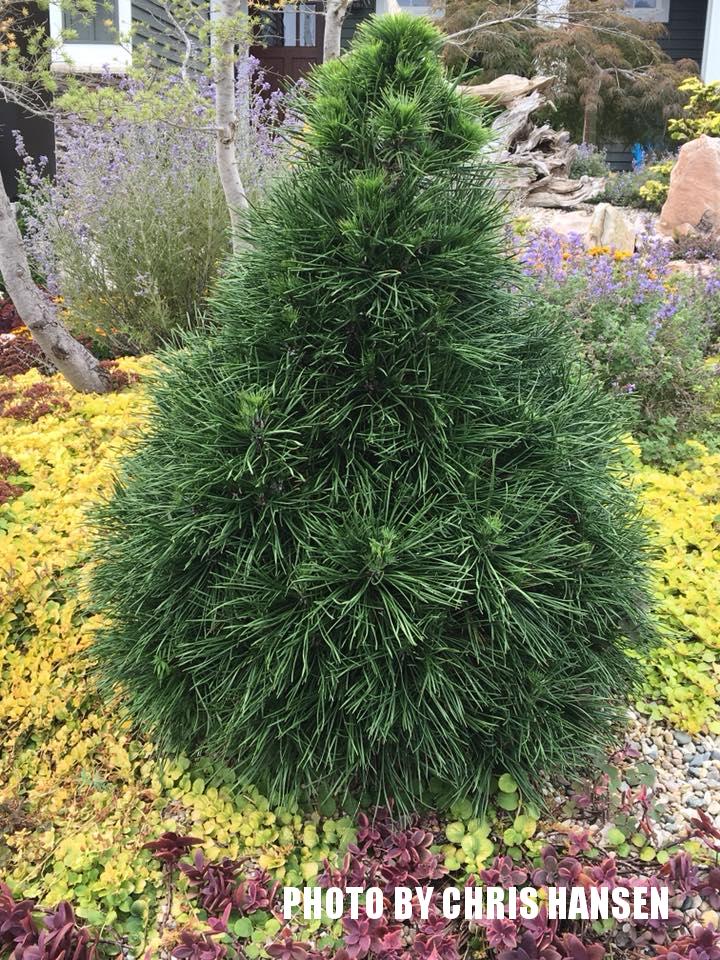 Green Penguin Scotch Pine
Pinus sylvestris 'Green Penguin'
Height: 4′ Spread: 18″
Compact, pyramidal, penguin-shaped conifer, no pruning necessary. Deep green needles grow in tufts and provide good winter color. Very hardy. Makes a great accent in a small bed or garden.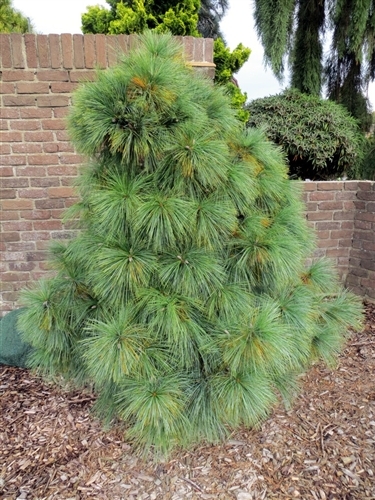 Wiethorst Schwerin's Pine
Pinus x schwerinii 'Wiethorst'
Height: 6′ (@ 10 years)
Small, upright-growing tree with fluffy light-green needles displaying silvery undersides. A valuable trait of this tree is that it will produce abundant seed cones at a young age. Expected annual growth is 6 to 8 inches