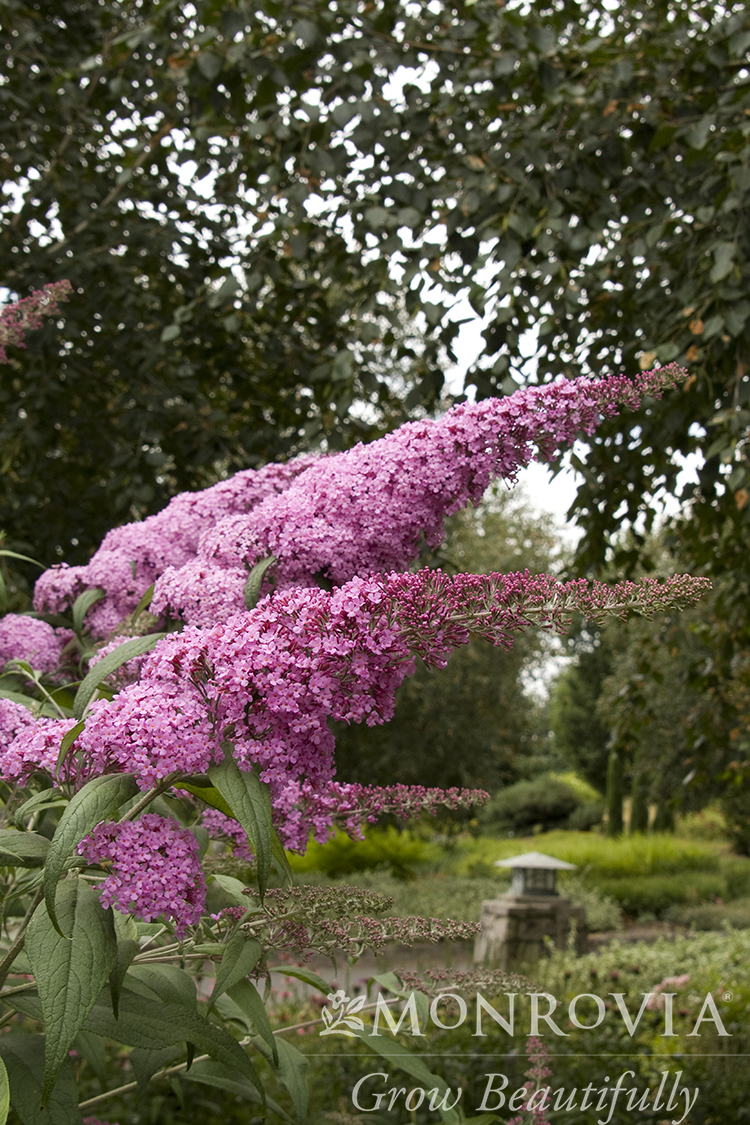 Some can grow 15-20 feet tall. Seasonal interest is provided by flowers, fruit and fall color. Can be used for wildlife cover, hedges, screening, wind and sun barriers, in mass plantings and as a specimen plant.
On this Page: Beautybush, Birch, Buckthorn, Burning Bush, Butterfly Bush, Chokeberry, Cotoneaster, Dogwood and Elderberry
Beauty Bush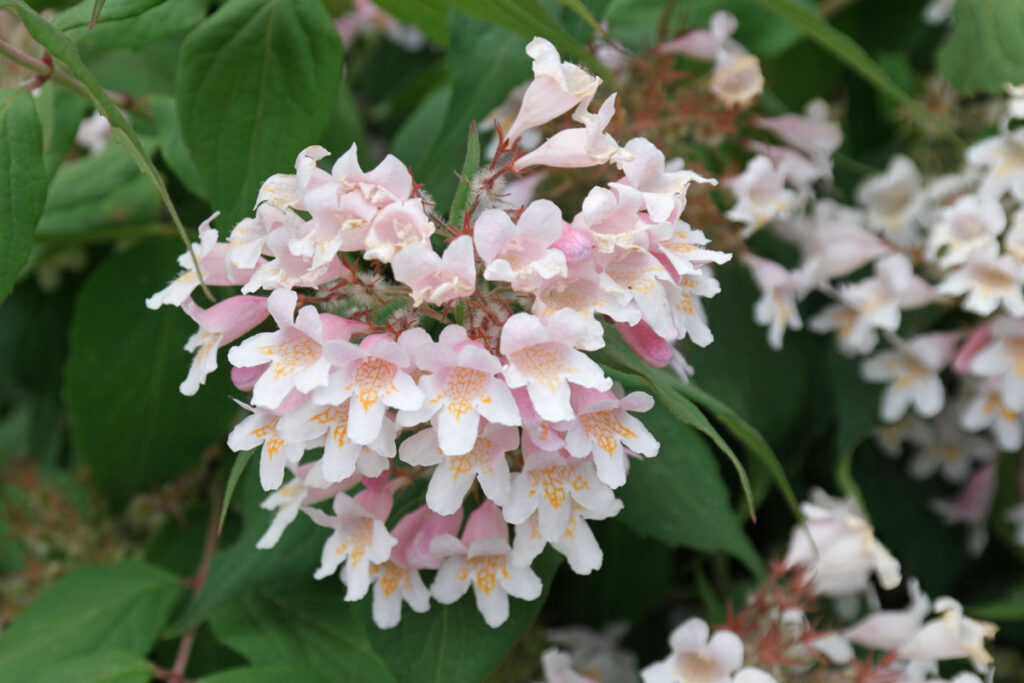 Kolkwitzia amabilis
Height: 6-10′ Spread: 6-10′
Primarily grown for its outstanding spring flowers. It is a deciduous shrub that typically grows 6-10′ tall with an arching, vase-shaped habit.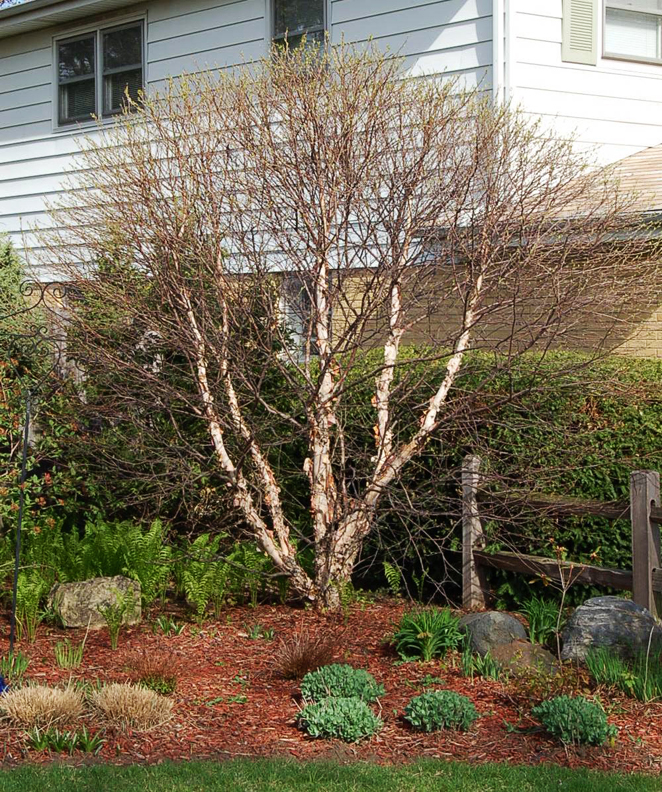 Little King Birch
Betula nigra 'Little King FOX VALLEY'
Height: 8-10′ Spread: 8-10′ (@ 10 years)
A dwarf river birch with highly ornamental exfoliating bark, perfect for smaller gardens or wherever space is limited. Excellent pest and disease resistance, and heat tolerance. Ideal in minimal-care landscapes, where the compact, low-branching form works as an accent or in groups to create a natural hedge or screen.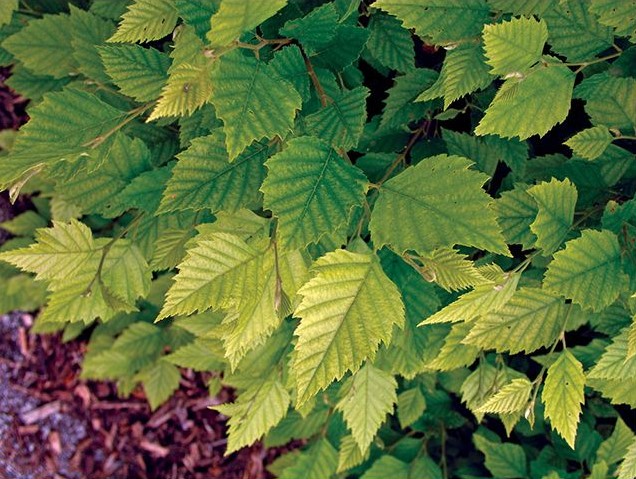 Buckthorn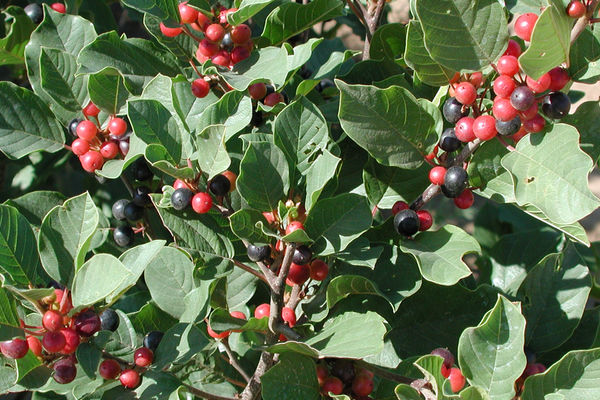 Columnar Buckthorn
Rhamnus frangula 'Columnaris'
Height: 12′ Spread: 4′
An upright, narrow shrub with lustrous dark green oval shaped foliage. It has red to purple-black fruit in the fall, with yellow fall foliage. It makes a useful hedge or accent plant. Prefers sun to partial sun, good drainage, and is drought tolerant once established.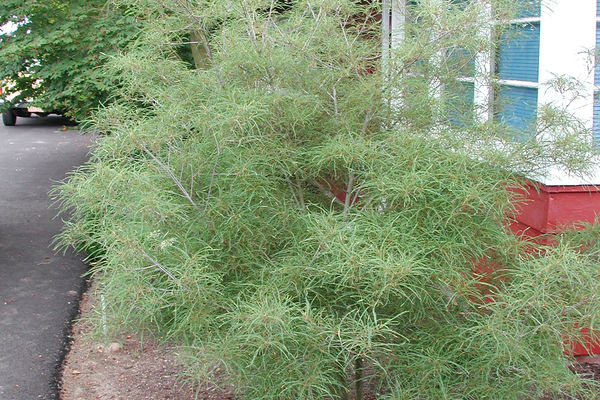 Fernleaf Buckthorn
Rhamnus frangula 'Asplenifolia'
Height: 15′ Spread: 8′
A slow growing large shrub or small multi-stemmed tree. The leaves are long, narrow and irregularly margined, giving the plant a fine texture. Fall color is yellow. Prefers full to half day sun, tolerant of many soils. It may be used for shrub borders, screening and as hedging.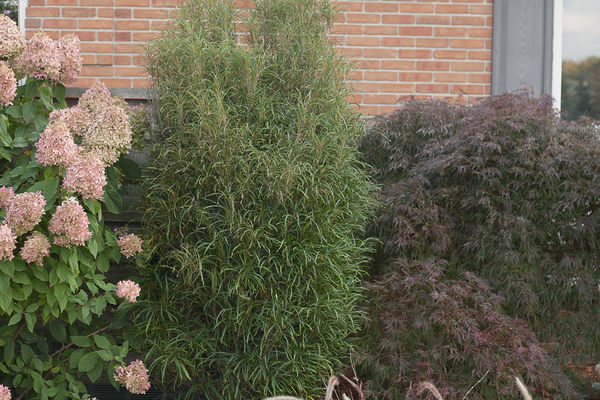 Fine Line Buckthorn
Rhamnus frangula 'Ron Williams'
Height: 5-7′ Spread: 2-3′
A narrow, upright shrub with deep green, finely textured, foliage that turns a golden yellow in the fall. It is a good plant for narrow hedges, as an accent plant, or in containers. It is non-invasive (the rarely produced fruit is sterile). It prefers well-drained soil in full sun to part shade.
Burning Bush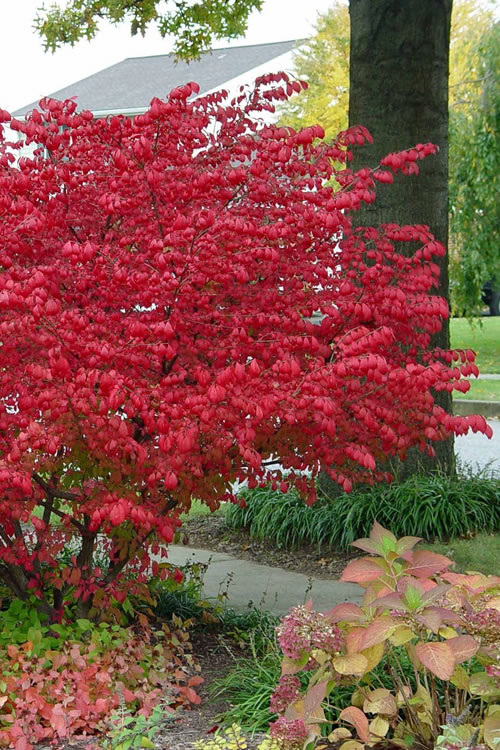 Chicago Fire Burning Bush
Euonymus alatus 'Timber Creek'
Height: 8-10′
Spread: 6-8′
Improved hardiness over other cultivars. The brilliant fire-red fall foliage color appears earlier than that of the dwarf form.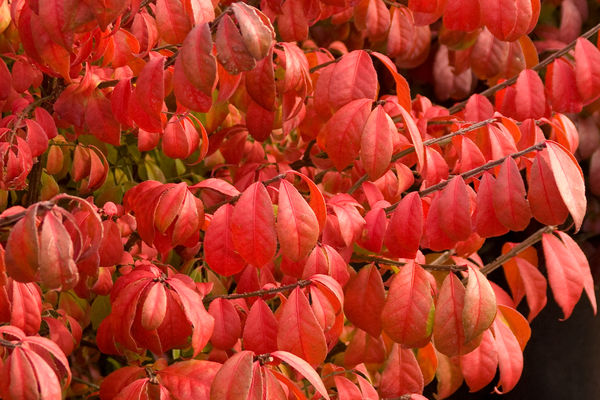 Winged Burning Bush
Euonymus alatus
Height: 20′ Spread: 24′
Dense, mounded, spreading, flat-topped, multi-stemmed shrub that is particularly noted for its fiery red fall foliage color.
Butterfly Bush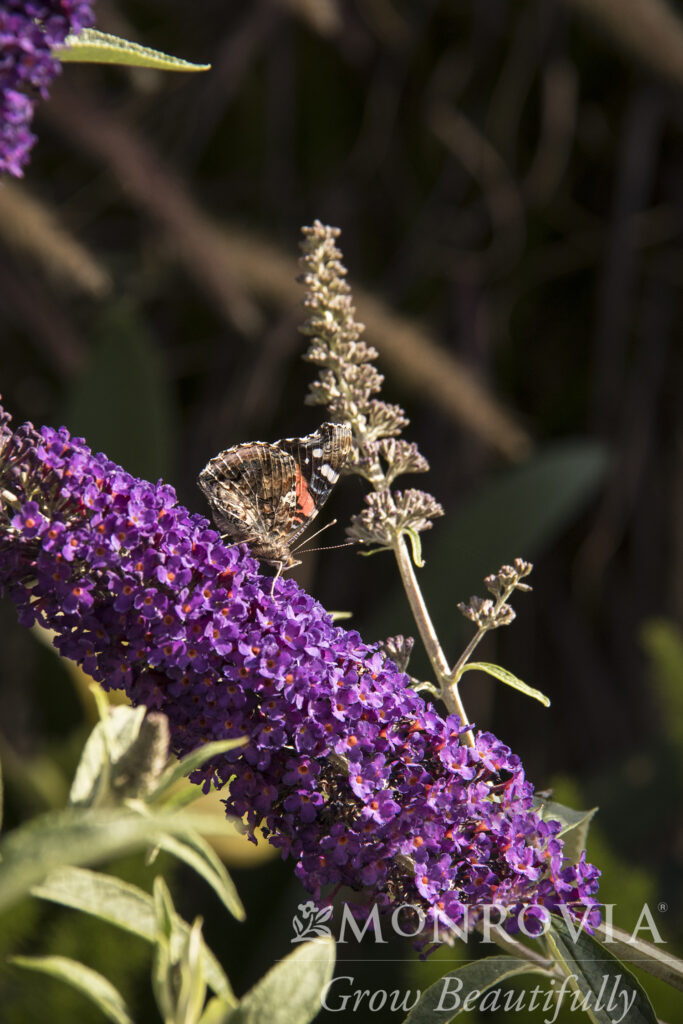 Black Knight Butterfly Bush
Buddleja davidii 'Black Knight'
Height: 6-8′
Spread: 4-6′
Spectacular summer color from lightly fragrant, dark violet-purple flower spikes. A fast growing shrub that works well as a foundation shrub, an accent plant or as a background in borders.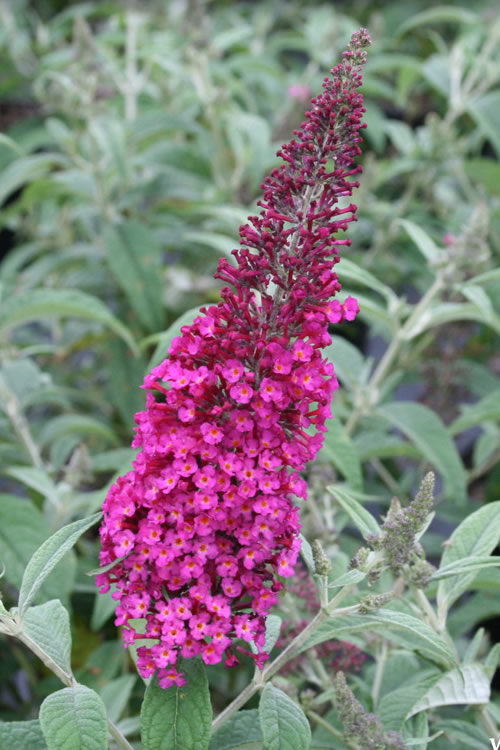 Cran Razz Butterfly Bush
Buddleja x 'Boscranz'
Height: 5-6′ Spread: 4-5′
Rich cranberry red flowers bloom from spring to mid-fall on well-branched plants. The large, pleasantly fragrant flower clusters measure up to 8" long. Low-maintenance plants are fast-growing, heat and drought tolerant, and virtual magnets for butterflies and hummingbirds.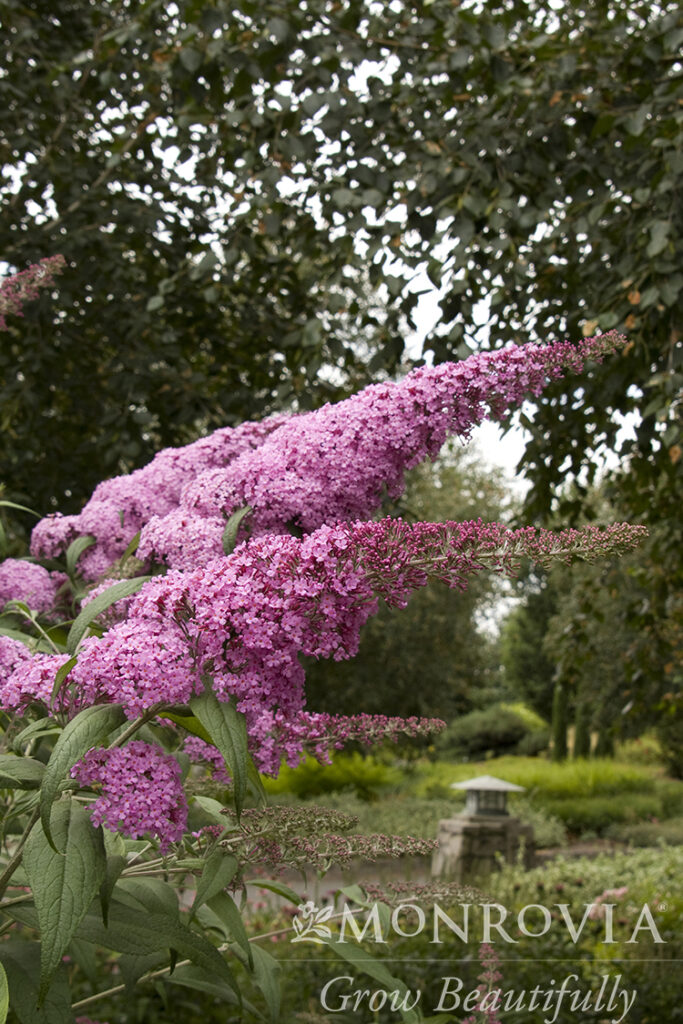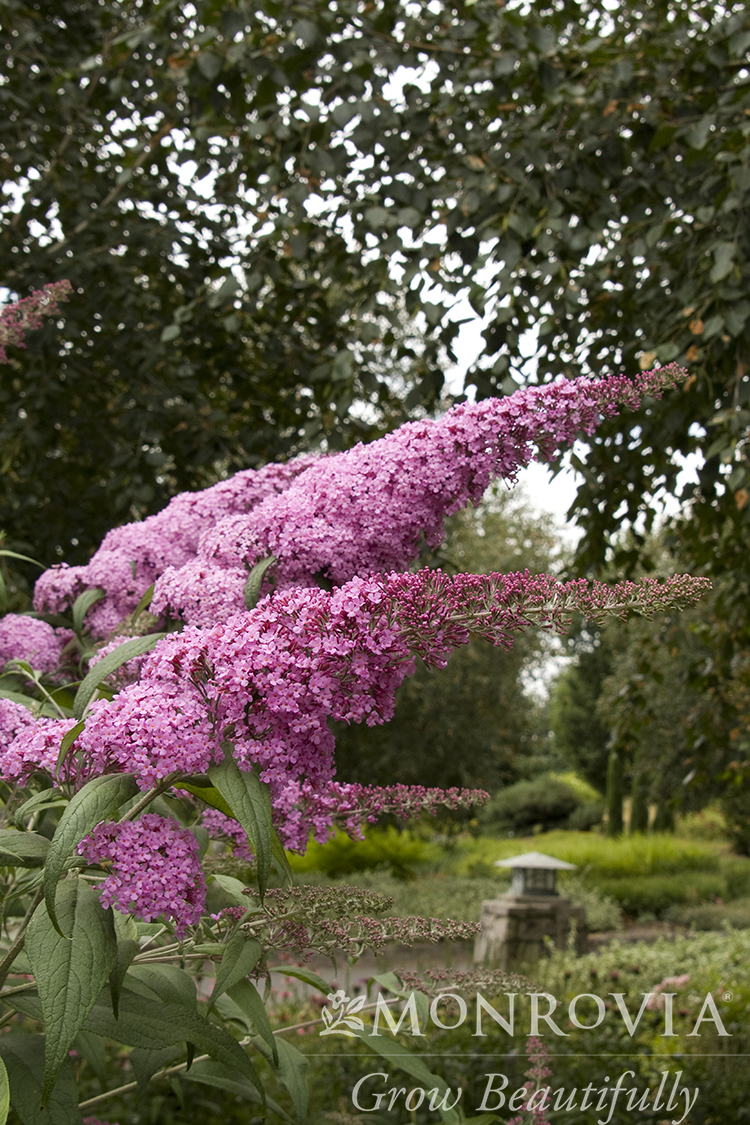 Pink Delight Butterfly Bush
Buddleja davidii 'Pink Delight'
Height: 6-8′
Spread: 4-6′
Spectacular summer color from conical clusters of fragrant, bright pink flowers. An easy background or accent plant with a compact habit, perfect for a sunny perennial border, cutting garden or container.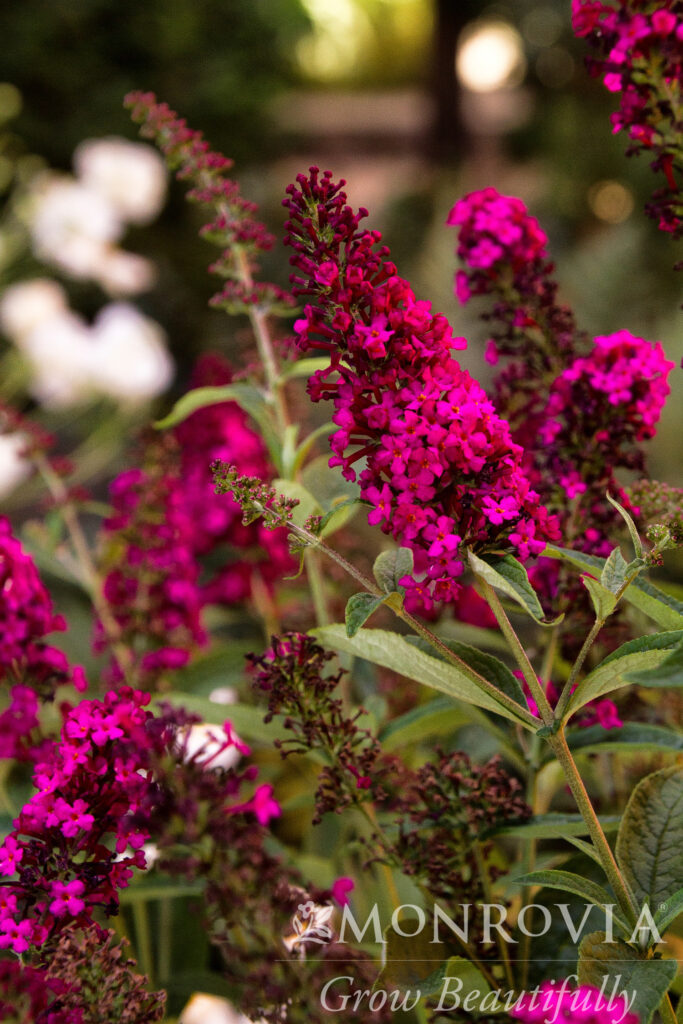 Royal Red Butterfly Bush
Buddleja davidii 'Royal Red'
Height: 6-8′ Spread: 4-6′
Spectacular summer color from conical clusters of rich, purple-red flowers. The nectar-rich flowers have a splendid fragrance. A beautiful selection with a naturally relaxed habit giving it a loftier, shorter appearance than taller varieties.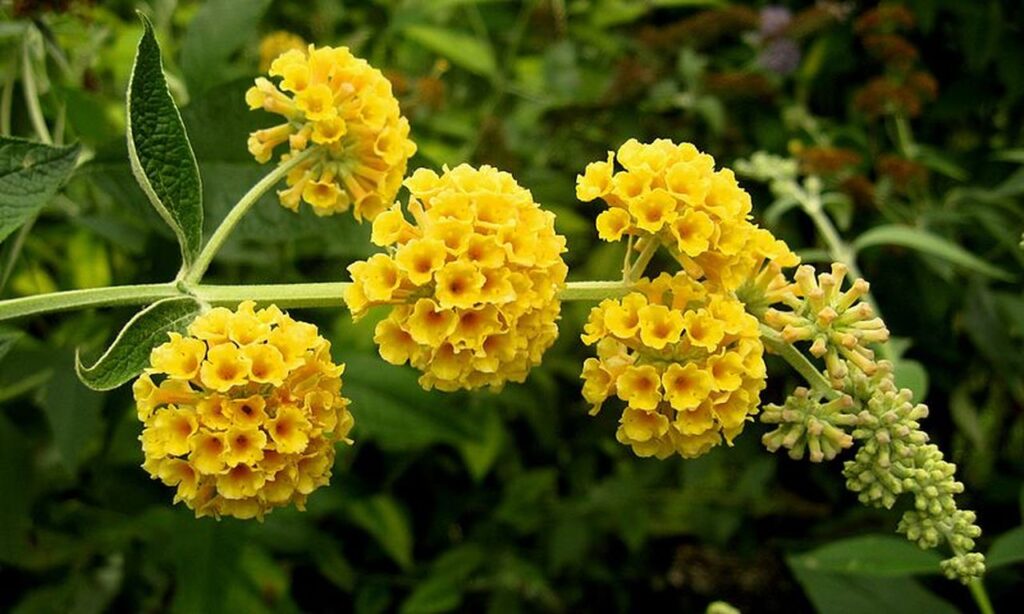 Sungold Butterfly Bush
Buddleja x weyeriana 'Sungold'
Height: 10-12′ Spread: 8′
An unusual hybrid with ball-shaped heads of orange-yellow flowers borne in long slender panicles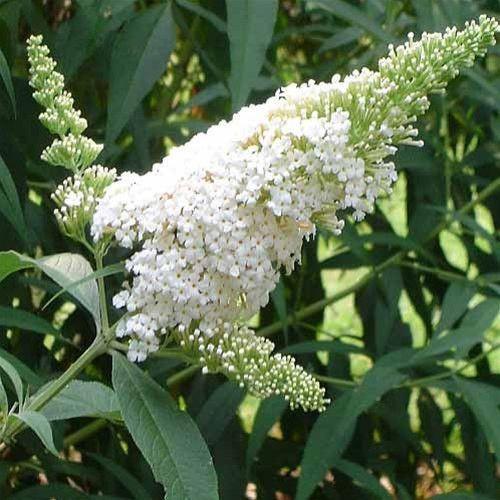 White Profusion Butterfly Bush
Buddleja davidii 'White Profusion'
Height: 5-6′ Spread: 5-6′
Showy panicles of fragrant white flowers with gold eyes at the ends of the branches from mid summer to mid fall. The flowers are excellent for cutting. It has grayish green foliage throughout the season.
Chokeberry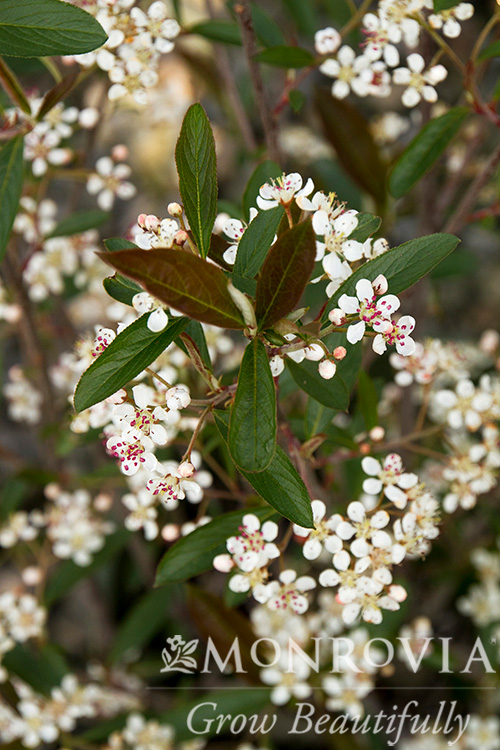 Brilliant Red Chokeberry
Aronia arbutifolia 'Brilliantissima'
Height: 6-8′ Spread: 6-8′
An improved, compact selection noted for its brilliant red fall foliage and larger, more abundant glossy red fruit. Tart and bitter fruit is good for jams and jellies.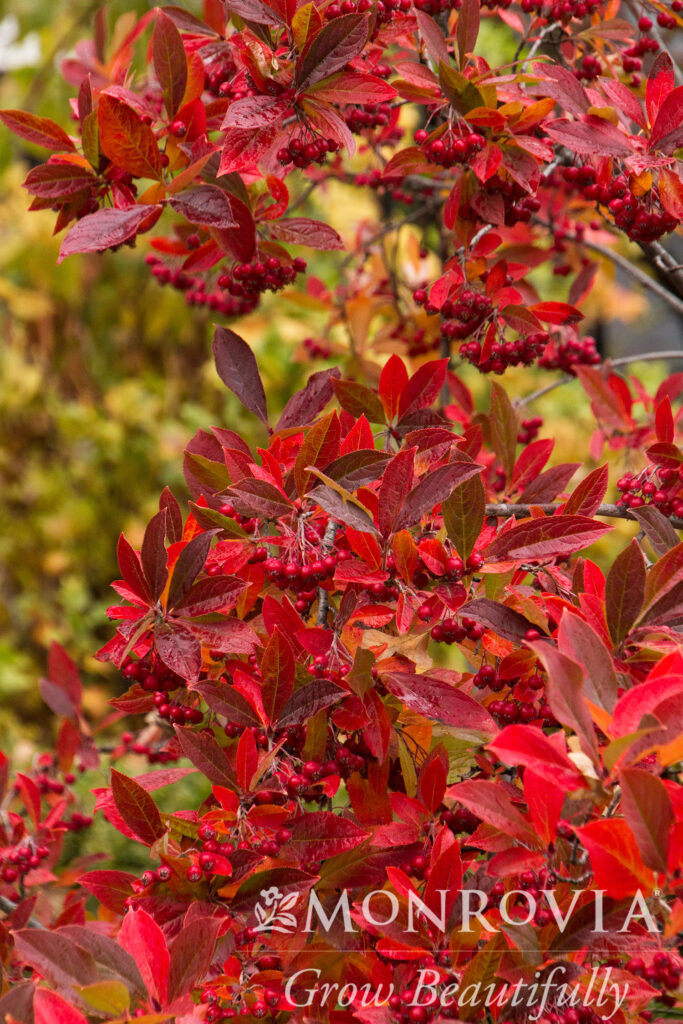 Cotoneaster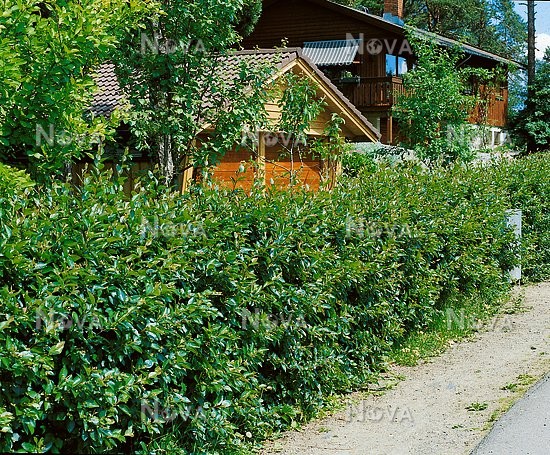 Hedge Cotoneaster
Height: 8-10′ Spread: 8-10′
Upright shrub with spreading branches. Attractive dark green foliage turns a yellow to red in the fall. Makes an excellent screen or tall hedge. Attractive black fruit persist into winter.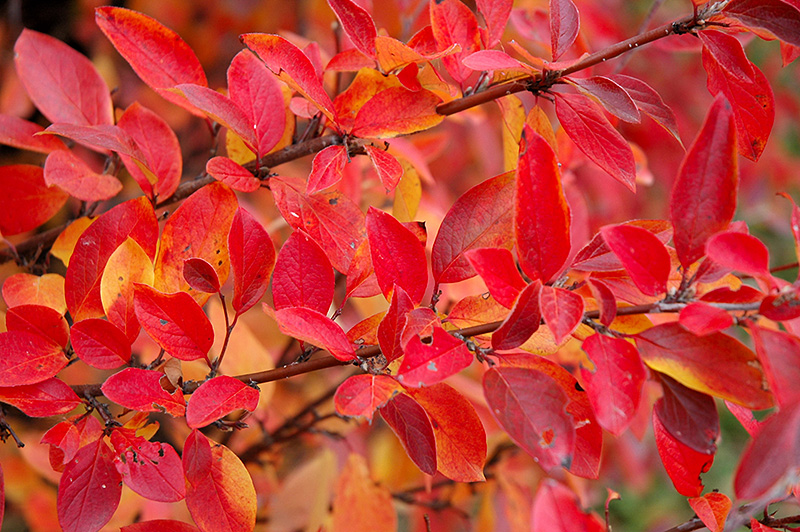 Dogwood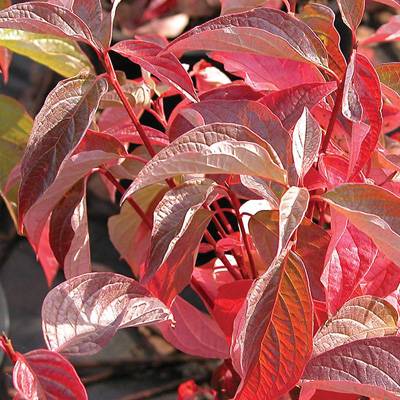 Bailey's Red- osier Dogwood
Cornus stolonifera 'Baileyi'
Height: 8 – 10′ Spread: 8-10′
An excellent red stem dogwood, beautiful in winter. Porcelain-blue fruit in late summer that attracts birds. Adaptable to a wide range of conditions, including shade and wet, it has a rounded habit and excellent reddish-purple fall color.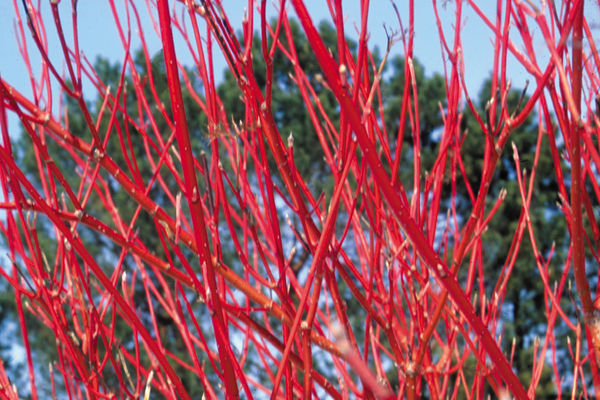 Cardinal Dogwood
Cornus sericea 'Cardinal'
Height: 6-9′ Spread: 8-12′
Rapid-growing, multi-stemmed, deciduous shrub with a loose, rounded, spreading habit. The outstanding ornamental feature of this plant is its bright red winter stems.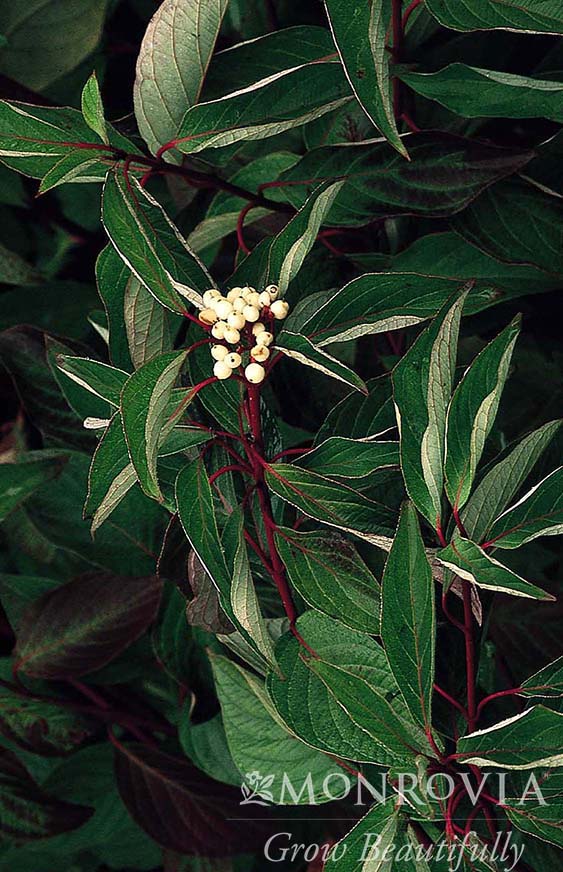 Red Twig Dogwood
Cornus alba 'Sibirica'
Height: 9′ Spread: 5′
Current year's growth features outstanding coral-red branches on a multi-stemmed shrub. Yellowish white flowers are followed by small blue berries. Bare stems create an attractive winter accent, and are a wonderful addition to seasonal flower arrangements.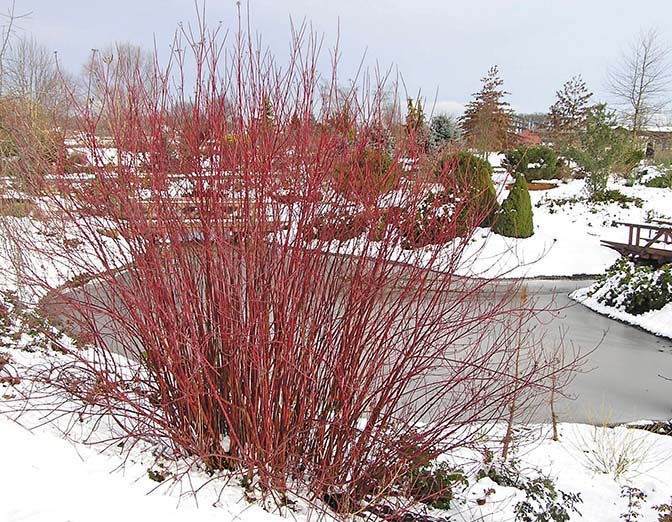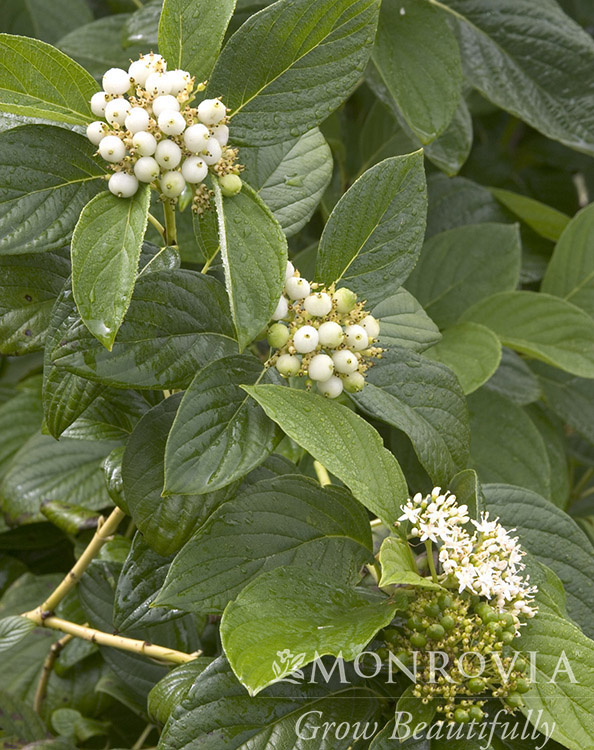 Yellow Twig Dogwood
Cornus sericea 'Flaviramea'
Height: 6-8′ Spread: 7-9′
The bright yellow stems on the younger growth of this multi-stemmed shrub provide striking winter color. White flower clusters adorn the green foliage in spring and are followed by white ornamental fruit. Bare stems are an excellent addition to seasonal flower arrangements. Use in shrub borders or mass plantings. Ideal for naturalizing.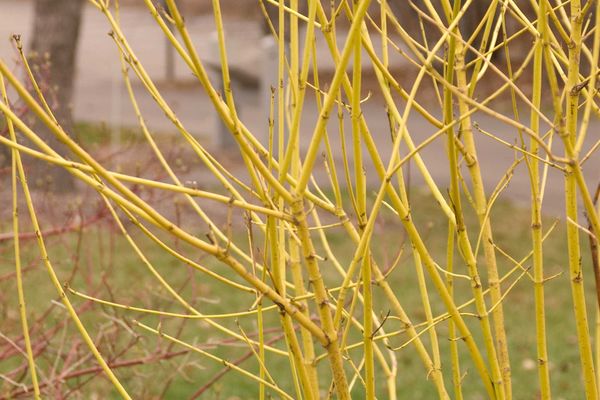 Elderberry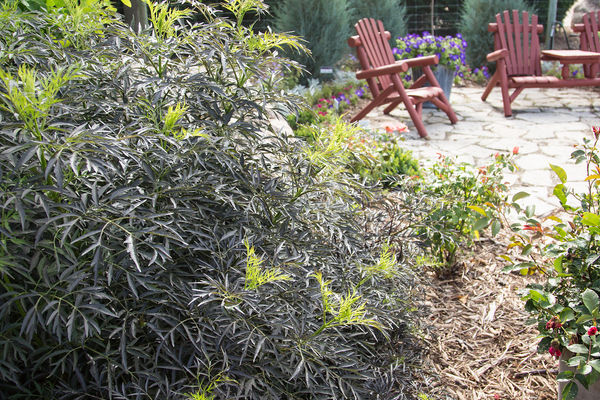 Black Lace Elderberry
Sambucus nigra 'Eva'
Height: 6-8′ Spread: 6-8′
Intense purple black foliage is finely cut like lace, giving it an effect similar to that of Japanese maple. Use it in place of more sensitive plants. Pink flowers in early summer contrast with the dark leaves for a stunning effect.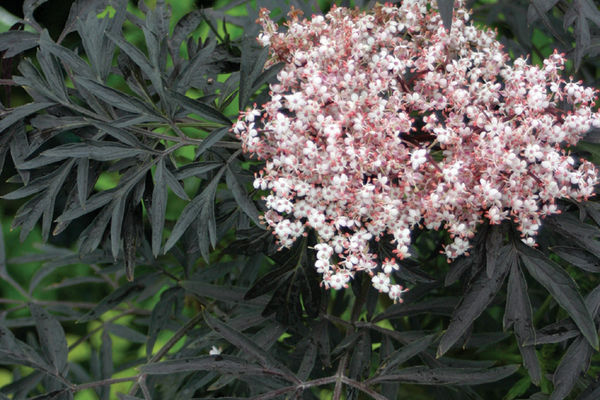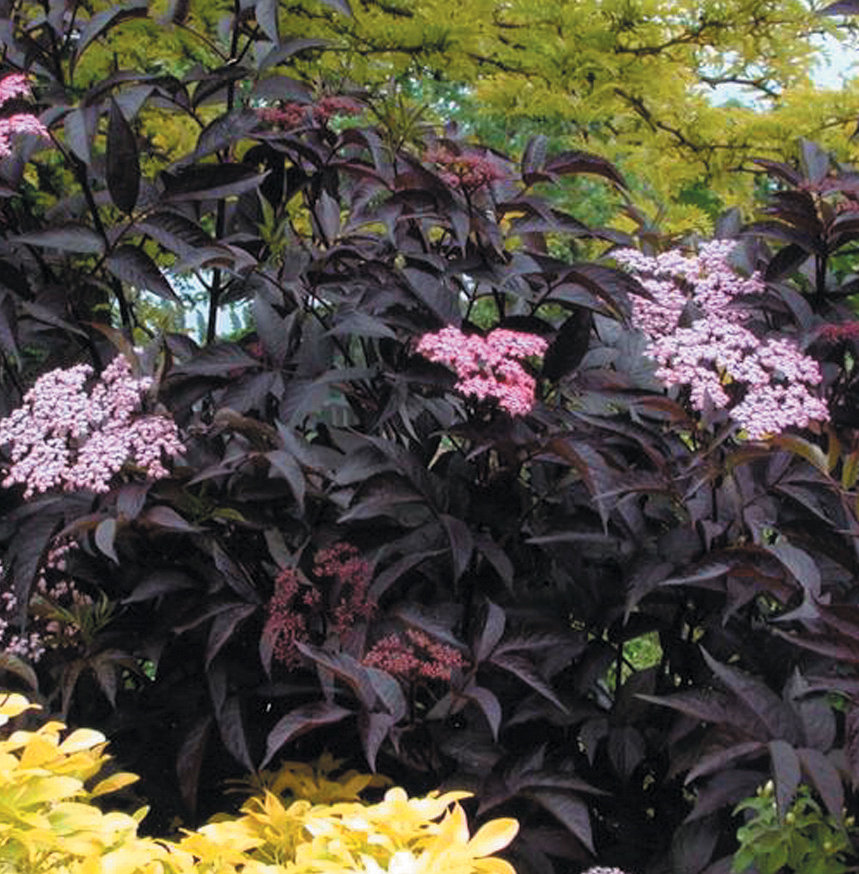 Black Beauty Elderberry
Sambucus nigra 'Gerda'
Height: 10′ Spread: 8′
Massive, pink flowers in mid-summer contrast wonderfully with the dark purple, almost black foliage. Grow it as a shrub, or cut it back each year and use it as a bold perennial.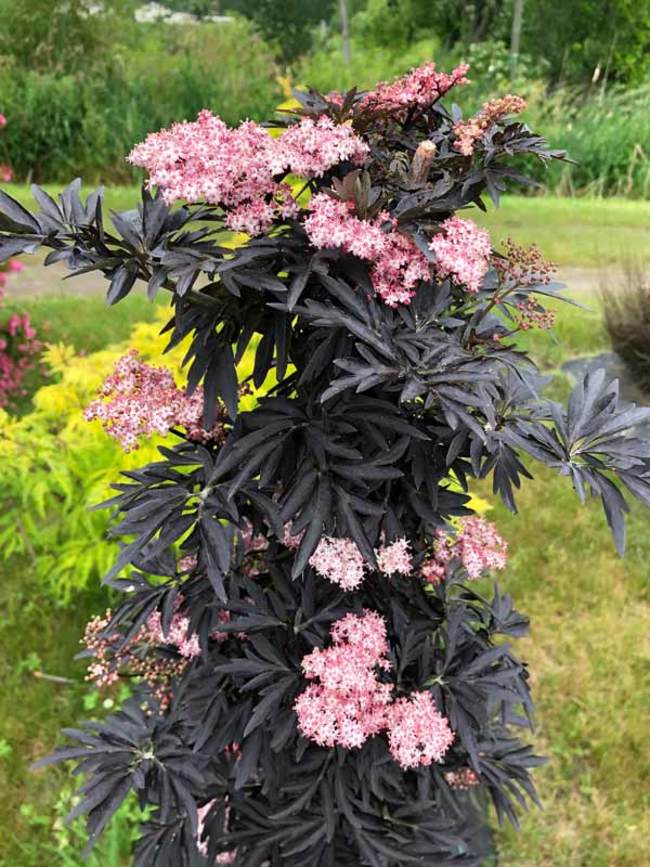 Laced Up Elderberry
Sambucus nigra 'SNR1292'
Height: 6-10′
Spread: 3-4′
Narrow, upright variety that takes up only a few square feet of ground. Feathery black foliage covers broomstick-straight stems that shoot toward the sky but stay in a narrow column. Early summer brings hundreds of pink flowers to contrast with the leaves.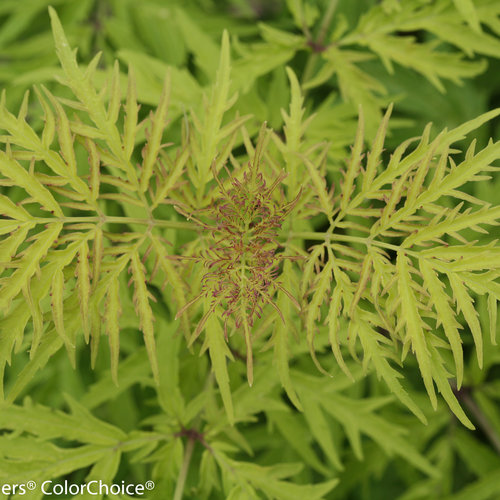 Lemony Lace Elderberry
Sambucus racemosa 'SMNSRD4'
Height: 7′ Spread: 7′
An elderberry with bright golden foliage. Fine, thread-like foliage exhibits colorful reddish new growth. More deeply cut than others, creating a compact, shaggy mound with exquisite texture. White spring flowers produce red fruit in fall, making it a good addition to wildlife gardens.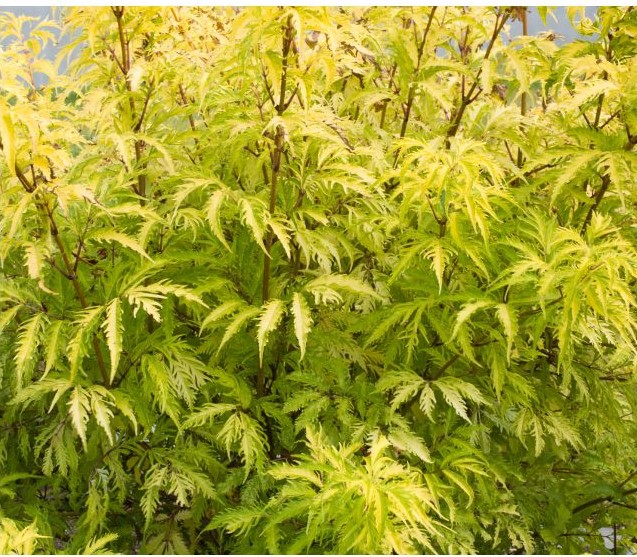 Sutherland Gold Elderberry
Sambucus racemosa 'Sutherland Gold'
Height: 6-10′ Spread: 6-10′
Bright gold toothy foliage makes a striking spring statement and greens beautifully as the season progresses. Dome-shaped clusters of creamy white flowers in late spring are followed by showy clusters of red berries in fall. A beautiful addition to wildlife gardens that will beckon song birds to the garden as berries ripen.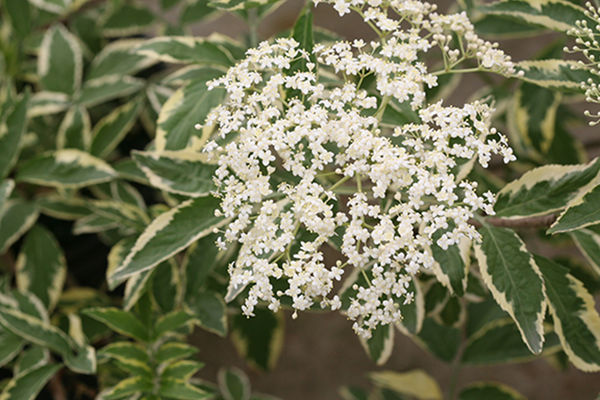 Variegated Elderberry
Sambucus nigra 'Instant Karma'
Height: 6-8′ Spread: 6-8′
Clean foliage of interplaying green and white. Large, lacy flower clusters appear in early summer. This versatile plant can be grown as a small tree or large shrub – it even plays nice in a perennial garden if it is cut back each year for a handsome spray of bright foliage.